How Do I Sell My House With Unpermitted Work in Nashville?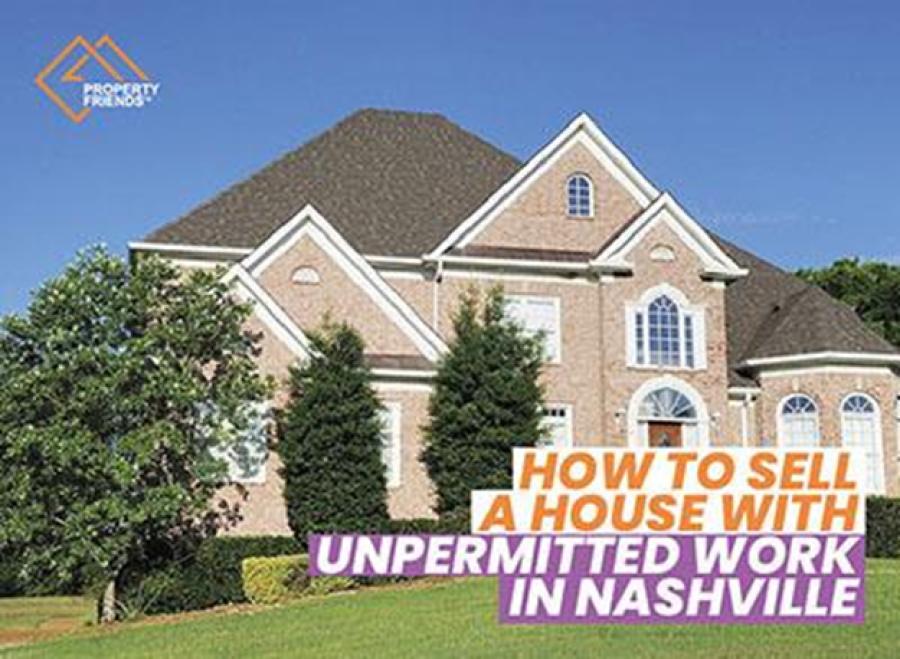 Selling a house with unpermitted work can be a challenging task, especially if you're in a tight real estate market like Nashville.
Unpermitted work refers to any improvements or alterations made to your property that were not approved by local authorities. This could include things like adding a room, converting a garage, or installing new plumbing. Although unpermitted work may seem like a minor issue, it can create major problems when it comes to selling your home.
What is Unpermitted Work?
Any modification, addition and changes in a property which needs some legal permit are known as unpermitted work.
Most projects in the US need a license, but small projects like painting, minor electrical repairs, and floor installation don't need one. The primary projects, however, do. If you need a fence and want to add a basement to your house, it requires legal permission.
5 Steps of Selling House With Unpermitted Work
Not to worry if you have any unpermitted work in your house; these 5 steps will help you get maximum success in your dealings.
#1. Think about the Blueprints
Do you have any suspects? Then you have to think about the blueprints for the house and what was actually constructed.
When we talk about "What was constructed?" Unfortunately, the answer is not always clear. You have to be clear about everything in the house that was originally constructed or added. The best way to know the reality is the home's blueprints, which have a detailed list of the house as it was initially built.
#2. Sell The House 'As Is'
If your house has so much unpermitted work, you can consider selling it as is. Selling your house with unpermitted work "as-is" means that you are selling the property in its current condition, including any unpermitted work that has been done, without making any repairs or upgrades.
This option may be appealing if you want to sell your home quickly and don't have the time, money, or desire to bring the unpermitted work up to code.
However, selling a home with unpermitted work "as-is" can also have its challenges. Such as:
Potential buyers may be hesitant to purchase a home with unpermitted work as they may not know the extent of the issue or the potential consequences of buying a home with unpermitted work.
You will likely receive a lower offer for your home because the buyer will need to factor in the cost of obtaining the necessary permits and bringing the work up to code.
Home-buying companies come here to save you as they buy your property in as-is condition.
#3. Get the Permit Before Selling a House
Getting the permit before selling a house with unpermitted work is a proactive approach that can help increase the value of your home and make it easier to sell.
By obtaining the necessary permits and bringing the work up to code, you can show potential buyers that the work has been approved by the local building department and meets all relevant building codes and safety standards.
#4. List Your Home AS-IS With a Realtor
Most of the sellers list their house as-is in the open market without making any repairs, or they try to legalize the unpermitted work. But it's not a good way to deal with your client without informing the buyer about unpermitted work.
At the time of dealing, you have to negotiate with your client and legalize the unpermitted work. You can offer them good credit for the repair and renovation of the unpermitted work. It can help you in winning their trust.
#5. Make Renovations That Do Not Require a Permit
Making renovations that do not require a permit is another option for selling a house with unpermitted work. This approach involves making cosmetic or functional upgrades to the property that do not require a building permit.
Examples of renovations that do not typically require a permit include:
Painting & Wallpapering
Landscaping
Upgrading light fixtures or plumbing fixtures
Installing new flooring
Replacing appliances
Adding new cabinets or countertops
Making these types of renovations can help increase the appeal of your home to potential buyers and make it easier to sell. By improving the look and functionality of your home, you can potentially increase its value and make it more competitive in the market.
How to Choose the Best Home-Buying Company to Sell your House with Unpermitted Work?
Home buying companies, also known as real estate investment companies or cash home buyers, are typically ready to buy homes with unpermitted work because they focus on purchasing properties quickly and efficiently, without the hassle and time constraints of traditional home sales.
These companies are often investors looking for properties to fix up and resell for a profit, and unpermitted work doesn't necessarily deter them from making an offer.
FAQs
What Happens If You Want to Do Electrical Work Without a Permit?
If you want to do any electrical work in your home, then taking a permit is the most important step. Without a permit, you can face many hurdles, as you have to pay a fine, and according to the law, they can cut off the electricity until the repairs have been made.
What Happens if an Inspector Finds Unpermitted Work?
City inspectors can penalize a homeowner for unpermitted work even though not much work has been done without an inspection. It only depends on how the local inspectors move forward to catch up on any unpermitted work on a property.
Can Unpermitted Construction Be Grandfathered In?
The answer is unclear about it because it always depends upon the municipality and the type of work of construction that was performed, and the act in accordance with the building code. But usually, unpermitted construction can be allowed if the municipality wants to allow it.
Does Every Renovation Need a Permit?
No, some renovations can be made without a permit, like painting the interiors or exteriors of a house, installing hardwood floors and kitchen cabinets, or making interior changes that don't require construction.
Wind Up
Selling a house with unpermitted work in can be a challenging process, but it is possible. It's important to be transparent about any unpermitted work to potential buyers and to understand the potential consequences of selling a home with unpermitted work.
By taking the right steps, you can increase your chances of successfully selling your home and getting the best return on your investment.